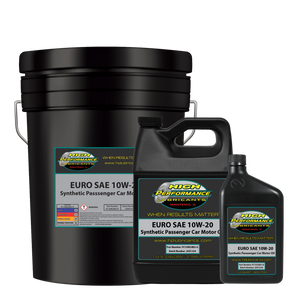 High Performance Lubricants' No VII engine oil is a multi-synthetic high performance motor oil made with the best choices of additive chemistry.  This series takes advantage of high quality base oils delivering superb pour points and specifically designed without utilizing VI improver for superior shear stability.  These oils are formulated with specifically chosen esters that can help minimize intake valve deposits, maintain clean engines, and provide elastomer compatibility.  HPL No VII engine oil is formulated with extra anti-wear and antioxidant additives to minimize wear while offering an extended oil life compared to other motor oils.  These premium oils are not something you will find on the shelf of a discount retailer.  If you are a person looking for a product that will outperform traditional mineral and synthetic oils our products will be a perfect fit for you.
Although the viscosity specifications do not align with the below specifications, the PCMO and Euro series both use additive chemistry common in the below performance specifications:
PCMO Series is a suitable replacement for: API SP, dexos1 TM Gen3, ILSAC GF-6A, Chrysler MS6395, Ford WSS-M2C945-B1, Ford WSS-M2C946-B1.
Euro Series is a suitable replacement for: VW 502 00/505 00, Porsche A40, ACEA A3/B4, API SL, Daimler MB 229.3/229.5, Renault RN0700/0710, Volvo 95200356